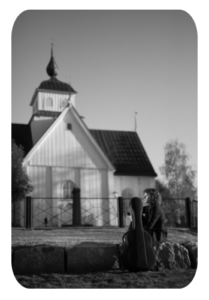 Ekaterina Vasilieva, Russian guitarist, born in Syktyvkar, 1985. She began playing the guitar at the age of thirteen. Before that she played the Russian balalaika. She graduated from music school and arts college in the city of Syktyvkar.
After college, she enrolled at the Russian Academy of Music Maimonides in Moscow. She studied there for three years under professor Tatarkin Dmitry Yurjevich. After this she have been invited to study at the School of Music in Piteå/Luleå University of Technology on the Master Education there her guitar professor was Jan-Olof Eriksson. During the time of her studies she also played concerts and participated in different competitions.
Her first album is to be released during fall of 2021. She is working as a music teacher and playing concerts.